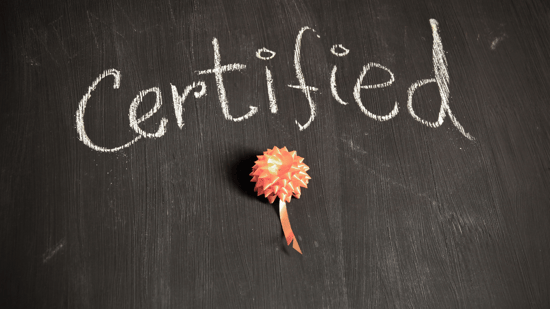 To begin their career as a Certified Registered Nurse Anesthetist, Student Registered Nurse Anesthetists (SRNAs) need to first take and pass the National Certification Examination (NCE), sometimes referred to as "the boards." In this article, we will look at the NCE, what it is, and the significant role it plays in setting the standards for a nurse anesthesia student to be granted the CRNA credential.
As part of NBCRNA's mission to promote patient safety through credentialing programs that support lifelong learning, one of the exams NBCRNA provides is the National Certification Examination (NCE). In order for SRNAs to begin their career as a CRNA and start practicing, they must first take and pass the NCE. Individuals can take the NCE at any point after completing their multi-year educational program at one of the nation's 124 accredited Nurse Anesthesia Educational Programs. The NCE may be taken up to four times following the completion of their nurse anesthesia education program.
The NCE is designed to measure the knowledge, skills, and abilities necessary for entry-level nurse anesthesia practitioners. It is a variable-length, computerized adaptive test with 100 questions and a maximum of three hours allowed to complete it. Questions can take the form of multiple-choice, calculations, drag and drop, hotspot, and graphics/videos. You can learn more about the question types in the NCE Handbook NCE Handbook. You can also learn about resources to study for the NCE in the Student Toolkit on the NBCRNA Student webpage.
Preparing for the NCE
Before taking the NCE, NBCRNA recommends taking the Self-Evaluation Examination (SEE). Most of the nurse anesthesia programs incorporate the use of the SEE in their programs. This voluntary self-examination has three objectives:
To provide information to students about their progress in their nurse anesthesia education program.
To provide information to program administrators on how well their programs are preparing students with the knowledge they need for anesthesia practice.
To prepare students for the NCE experience.
It is a 240-question computerized adaptive examination consisting of multiple-choice, multiple-correct responses, short answer/calculations, drag and drop, and hotspot questions. It serves as an important foundation in preparation for the NCE.
There are currently more than 7,000 nurse anesthesia students in the U.S., with more than 3,000 typically graduating and becoming newly certified as nurse anesthetists each year.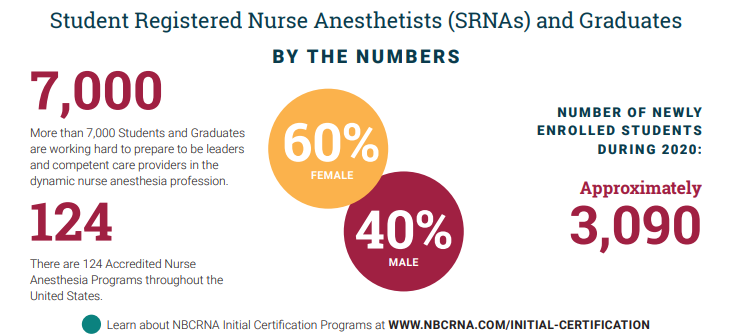 Learn more about initial certification for CRNAs, the NCE, and the SEE, as well as resources for both exams at www.nbcrna.com/initial-certification. Students can access the Student Toolkit, SRNA newsletters, an NCE/SEE Exam Tutorial, FAQs, and more here.
*Accreditation provided by the Council on Accreditation for Nurse Anesthesia Programs (COA)