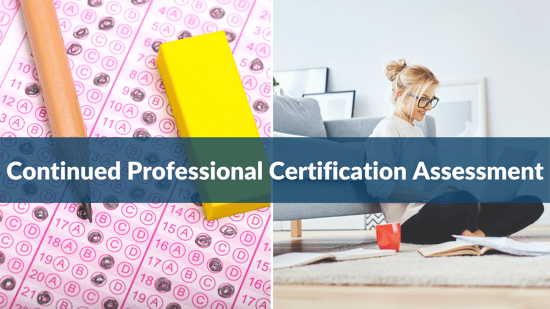 As you enter your second 4-year CPC cycle, the Continued Professional Certification Assessment (CPCA) will need to be taken--at least six months before that cycle deadline. In this article, we will review what the CPCA is so you'll know what to expect as you prepare to take the assessment, what it includes, ways to prepare, the choices you can make about where to take it, and more.
What is the CPCA
The CPC Assessment (CPCA) is a performance-standard assessment, not a pass/fail exam, so it is more like a self-assessment to help identify any potential knowledge gaps. It includes 150 questions and you'll have three hours to complete it.
The goal of the CPCA is to assess CRNA knowledge in the four core domains of nurse anesthesia practice:
Airway Management

Applied Clinical Pharmacology

Human Physiology and Pathophysiology

Anesthesia Equipment, Technology, and Safety
What is covered on the CPC Assessment
Because the CPCA focuses on clinical knowledge, rather than the fine detail you needed to learn for your initial certification examination to become a CRNA (the NCE), it is instead geared more toward the knowledge of the practicing CRNA. In fact, the content for the CPCA was developed from a national survey taken by a representative group of CRNAs, ensuring the knowledge covered is common to all CRNAs, regardless of practice focus.
Check out the CPCA Content Outline, which acts as a blueprint for the assessment, tells you exactly which knowledge areas are included on the Assessment.
How much does it cost?
The cost of the CPCA is $295 every eight years –that's an annualized average of $37 a year.
Where can I take the CPCA?
You have two flexible options. You can either take the CPCA in the privacy of your own home or any other private, quiet, distraction-free location with good internet access. The other option is to take the CPCA at a traditional testing center—it's your choice.
When can I take the CPCA?
You can take it during any open testing window in your second 4-year cycle--up until 6 months before the end of that cycle. The first windows will open in August and November of 2021, with multiple testing windows in each subsequent year. You'll receive information from the NBCRNA on how to access the CPCA by June 2021.
What happens if I don't meet the performance standard?
If the performance standard on the CPCA is met, nothing additional needs to be done above the regular requirements of the CPC Program.
If the overall performance standard is not met, NBCRNA will identify domain areas where remediation is needed. A minimum of one additional Class A credit in each of those identified domains will need to be taken. Of course, you can always choose to do more, but you only need a minimum of one Class A credit in any identified domain to meet this requirement.
Prior to launching the CPCA, an evaluation of about 2,500 CRNAs was conducted--in a variety of conditions and locations. In that pilot, more than 95% met or exceeded the performance standard set by this self-evaluation of practicing CRNA knowledge.
Why does the CPCA need to be taken 6 months prior to the end of my cycle?
By completing the CPCA within a minimum of six months prior to the end of your second 4-year CPC cycle, you will have plenty of time to earn any additional Class A credits that may be needed. Remember, you only need to take (at least) one additional Class A credit if you don't meet the performance standard in any of the four knowledge areas.
CPCA Resources
To help you prepare for the CPCA, NBCRNA offers a variety of resources that can be found on the CPCA Toolkit page. These include practice assessments--that can give you access to up to 180 practice questions, as well as short overview videos, podcasts, infographics, and more.